Wing Woman 101
Natural, powerful support through your entire cycle
Wing Woman Ingredients
Explore The Label
WE CREATED THIS PRODUCT WITH YOUR MENSTRUAL CYCLE IN MIND BUT IT CAN BE TAKE DAILY TO SUPPORT YOUR OVERALL HEALTH.
CRAMP BREAK IS KNOWN TO RELIVE CRAMPS AND REDUCE MUSCLE SPASMS.
VALERIAN ROOT IS KNOWN TO REDUCE ANXIETY AND KEEP YOUR MIND AND BODY CALM.
Continued Education
From the Blog
Lab Results
25mg
As seen on Instagram
4.9
4.9 star rating
4.9 star rating
18 Reviews, 3 Q&As
Thank you for posting a review!
We value your input. Share your review so everyone else can enjoy it too.
Thank you for posting a review!
Your review was sent successfully and is now waiting for our staff to publish it.
Thank you for posting a question!
Please click on the link in the confirmation email we just sent you to submit your question.

Your question will appear on the site once someone answers it.
Filter Reviews
5.0 star rating

4.0 star rating

3.0 star rating

2.0 star rating

1.0 star rating
My new monthly friend!
Review by Leigh P. on 23 Jul 2020
review stating My new monthly friend!
I have been using Wing Woman for just a week so far and I'm extremely happy with my results! Thank you, Vena!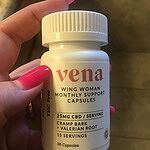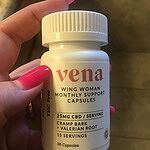 On Wing Woman
T
Tracey R.
5.0 star rating
Menopause
Review by Tracey R. on 1 Apr 2020
review stating Menopause
Wing Woman took me out of the moods I was feeling. 🌻I'm a menopausal Grandma raising my Grandbabies and I need to feel good! Thank you Vena!!!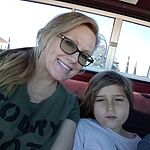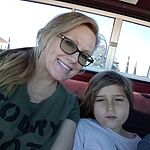 On Wing Woman
Loveeeee
Review by Lavonne on 6 Jul 2020
review stating Loveeeee
I used for the past week and it has really helped with my mood and my cramps. I'm stocking up on this product!
On Wing Woman
Like the ingredients
Review by Holly K. on 28 Jun 2020
review stating Like the ingredients
I've only taken Wing Woman through one cycle but I did notice less cramps and anxiety. The recommended dose is 2 pills but I only took one as I think for a first time user 50mg would be too much especially since I started taking the 15mg Restful Night.
On Wing Woman
Convenient & easy to travel with
Review by Kara M. on 24 Jun 2020
review stating Convenient & easy to travel with
Wing Woman has been a great way to alleviate monthly pre- and during menstrual symptoms without using traditional medicine. I have found myself less symptomatic and moody in general. I may just try this all month along! I use it in conjunction with my tincture for excellent results.
On Wing Woman
Q: Hi, how does it work for menopause?
A: When we formulated Wing Woman, we had women in mind who experience discomfort during their menstrual cycle. However, many of our ingredients help combat a wide range of symptoms that women experience at any given point. That being said, those who experience symptoms of menopause could find Wing Woman beneficial.
Was this answer helpful?
0
0
Q: Does this product help with mood swings, low energy, tiredness, etc? Is this caffeine free? I'm 42, and am a crabass during my PMS and period week and would love to find a product to balance me out and take the age off as well. Does this also help with cramp pain? (Sorry for all of the questions)
A: We formulated Wing Woman to combine powerful natural ingredients that help ease common symptoms of your menstrual cycle. Three of the main ingredients are Chasteberry which is helps even mood swings, Valerian Root to promote relaxation and Cramp Bark which has been known to treat muscle cramping. Feel free to call us at
888 981 7760
if you have more questions!
Was this answer helpful?
1
0
Q: Is this to be taken everyday or is it just as beneficial taken a few weeks before your cycle?
A: Wing Woman was formulated to be taken during PMS and throughout your cycle, but many women enjoy taking as their daily CBD serving because of the added benefits of the other ingredients.
Was this answer helpful?
1
0