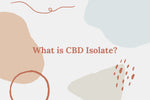 What is CBD Isolate & How Will It Affect Me?
As the use of CBD products continues to rise in mainstream popularity, it's become clear that we are in no shortage of choices available. You may have heard terms thrown around like "full-spectrum" and "isolate," but what does any of that mean? More importantly – what does it mean for you, personally? For so many people, their initial reactions when first learning of CBD's existence is suspicion. 
Understandably, they want to know what exactly it is, and if it will make their mind altered to feel "high" in any way, shape or form. Now, not all CBD products are created equal. "Full-spectrum" CBD products contain an array of extracted cannabinoids that include CBD and beyond, including THC. Tetrahydrocannabinol (THC) is one of over one hundred cannabinoids in the cannabis plant, and is the famous chemical that is responsible for the notorious "high" or psychological effects in cannabis. CBD, on the other hand, has attracted a massive amount of attention in recent years for its characteristic of having zero psychoactive effects, causing no feeling of being "high" like experienced with the consumption of THC. 
A compelling option for anyone who desires to experience the therapeutic benefits of CBD without any traces of THC, CBD isolate has opened up a world of opportunity. 
There are so many reasons an individual may be looking to avoid THC in their products entirely. Aside from personal choice, many people avoid risking trace amounts of THC showing up in mandated routine drug testing in professional areas. Some people may simply be looking to switch away from prescription medicines that come with powerful, unpleasant side effects with the intention of avoiding any intoxicating feelings of the mind – so they would like to avoid the high from THC, too. Well, thankfully for those who have considered CBD (but changed their minds in fear of THC's presence), we have great news! We'd love to introduce you to our good friend: CBD isolate. 
What Exactly Is CBD Isolate? 
Here at Vena, each of our products is expertly formulated with 99%+ CBD isolate (check out our lab results here) So what does this mean, and what does it mean for you? 
CBD isolate means the purest form of CBD. It quite literally, is the act of "isolating" only the CBD cannabinoid from a cannabis plant through the extraction process. Now – before you get worried about coming from a cannabis plant, you'll be delighted to discover that the "hemp" plant is actually a cannabis plant! Federal law requires CBD products to be extracted from "hemp," and not marijuana plants. All of Vena's CBD is extracted from pristine, Kentucky-grown industrial hemp. 
To be considered "industrial hemp," the plants must contain no more than 0.3% of THC. This amount of THC is virtually undetectable, and extremely far below what it would take to make even the smallest human feel a high or show up in their body. 
Despite this amount being so miniscule it's virtually nonexistent, CBD isolate takes the purity to the fullest extent! Through an extraction process using ethanol-alcohol and carbon dioxide (CO2), the hemp plant will lose its active compounds and cannabinoids (including those tiny remaining trace amounts of THC), leaving behind a 99%+ pure form of CBD. With the final result of the extraction process, the purest form of CBD (isolate) will be in a powder or crystalline form. Beyond this, manufacturers can choose to use this CBD isolate to create other CBD products to provide different ways to reap the benefits of CBD. 
It is essential for consumers to understand that alone, CBD has a naturally low bioavailability, meaning your body doesn't absorb much of its benefits when it travels alone through the digestive system. So, to increase bioavailability, CBD isolate is often added to a carrier oil, like MCT oil. MCT is short for medium-chain triglycerides, which do a phenomenal job at protecting CBD through first-pass metabolism, allowing for optimal absorption by your body. But, how? The molecules of MCT are smaller in size than most fats, making them easier for your body to use (increasing bioavailability), and a number-one option for consuming together with CBD. 

At Vena, every single one of our products is crafted using the purest, premium-quality CBD isolate, and blended in synergy with MCT coconut oil. Coconut oil is also naturally highly abundant in MCTs! MCTs are found abundantly in sources of "healthy fat," like avocadoes and olives. Whether you are a beginner or experienced user in the world of CBD, Vena offers products for every one at any step in their wellness journey.
If you are in search of a tincture, Vena's CBD Oil Tincture contains the purest form of CBD isolate and comes in varying strengths of 500mg up to 3000mg. If you're not a fan of dropping oil beneath your tongue and consuming directly, Vena CBD Gel Capsules combine 99%+ CBD isolate suspending in MCT oil in encapsulated form for convenient consumption. These are great for our beautiful on-the-go humans who prefer the convenience of tossing back a capsule with water to measuring out a dropper of oil. There is something for everyone – and every body is different. At Vena, we cherish you regardless and aim to provide options for every walk of life!