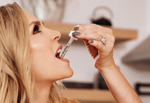 CBD 101: What Every First-Timer Needs to Know
What is CBD?
CBD, or Cannabidiol, is a medicinal plant compound found in cannabis. Cannabinoids are naturally occuring in the human body, and supplementing with hemp-derived CBD is reported to help with relaxation, focus, and whole-body health. Unlike THC, the chemical compound most discussed in marijuana, CBD does not have psychoactive effects. CBD is legal in the United States and is widely used to ease tension and heal minor ailments. Learn more about the different types of CBD and how it can give you a wellness boost in your own healthcare journey below.
Getting Started on CBD Types
There are three different ways CBD can be extracted which produce slightly different, but equally important derivatives: CBD Isolate, Full Spectrum CBD, and Broad Spectrum CBD, each with its own unique cannabinoid profile. 
CBD Isolate
CBD Isolate is the purest form of CBD: as its name suggests, it is totally chemically isolated CBD without any extra cannabinoids, terpenes, and minerals. Isolate is totally pure, always with 0% THC. Isolate is great for anyone who may be tested for THC at their place of work.
Full Spectrum CBD
Full Spectrum CBD is the whole bundle! It includes CBD extracted along with other cannabinoids and minerals including terpenes, flavonoids, THC, and other phytochemicals. The way these components work together to boost your health benefits is called the entourage effect. The amount of THC included in Full Spectrum is always 0.03% or less, meaning, Full Spectrum CBD does not provide a psychoactive effect (it won't get you high). 
Broad Spectrum CBD
Broad Spectrum is similar to Full Spectrum, but with a special process removing the THC. Broad Spectrum goes through an additional extraction process beyond Full Spectrum to confirm 0% THC. Broad Spectrum contains those  terpenes, flavonoids, cannabinoids and other phytochemicals included in Full Spectrum. 
What Type of CBD is Right for Me?
Isolate, Full Spectrum, and Broad Spectrum all have fantastic health and therapeutic benefits. The type that works best for you will depend on your lifestyle and wellness journey. If you do not need to undergo periodic drug tests for you, you may want to start with Full Spectrum CBD. The trace amounts of THC in Full Spectrum can help give you a boost with the entourage effect, yet could possibly show up on a drug test overtime. Broad spectrum works well if you are interested in those other components like terpenes and flavonoids, but want to avoid any trace amounts of CBD. Finally, CBD isolate is great for beginners who want to confirm that their product has 0% THC and is pure unadulterated CBD. For those who may get a drug test as work, we recommend CBD Isolate.
Is CBD Legal in My State or Country?
CBD is legal in the United States due to the 2018 Farm Bill. This bill was a significant step forward for the entire cannabis industry, confirming the legality of CBD in all 50 States. It is important to note that due to the precise language in the bill, you should only purchase your CBD from brands that adhere to transparent, high-quality standards for production. Check out the Certificate of Analysis for your product to confirm it's quality and ingredients. CBD is legal in some international markets, at this time Vena does not ship internationally. 
Where do I get Started?
Check out reputable CBD brands to discover what products may work best with your body. Everyone is different, so it's OK to try a couple different products and see what gives you a boost to feel your best. Have questions about CBD products? Email support@venacbd.com to discuss your wellness journey.