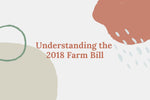 What does the 2018 Farm Bill mean for the CBD Industry?
You may have heard that the 2018 amendment to the Farm Bill made CBD legal throughout the United States, but what does this mean for you and your CBD consumption? We review the status of the Farm Bill so you can feel confident that you have all the information about the legislation of your products. 
The U.S. Farm Bill
The original Farm Bill was intended to help farmers with food supply during droughts in the Great Depression era. The Bill was revised regularly, notably with the Food, Conservation, and Energy Act of 2008. It wasn't until 2018 that the Farm Bill had a significant impact on the cannabis industry. President Trump signed the revised Farm Bill in 2018, ensuring the federal legalization of industrial hemp.
From the USDA testimony on Hemp Production: 
"the 2018 Farm Bill removed hemp, which includes low-THC derivatives of cannabis, such as CBD products, from the definition of marijuana in the CSA"
This was a huge win for the cannabis industry, and allowed millions of Americans to safely and legally consume products that reportedly support focus, relaxation, and recovery. 
CBD vs THC
Cannabidiol, or CBD, was effectively removed from the list of schedule 1 illegal drugs. This clarification ensured that products with less than .3% THC would not fall under the illegal substances category, allowing for massive production of health and wellness products with cannabidiol. 
Cannabinoids are the naturally produced chemical compounds found in the hemp plant. CBD and THC are the most widely known cannabinoids. These power houses are the driving force behind feeling more relaxed and more focused. 
Cannabidiol (CBD) is the substance found in cannabis that produces natural non-psychoactive health benefits. Tetrahydrocannabinol (THC) is the substance found in cannabis that produces natural health benefits and may be psychoactive or euphoric. Both have unique health benefits, but legality varies state-by-state on products with THC. With the 2018 Farm Bill, industrial hemp, and subsequently CBD products with less than .3% THC became federally legal.
You can find CBD products in the form of gel capsules, tinctures, creams and more, widely available in stores and online. 
What is the Future of CBD and THC in the United States?
The cannabis industry is ever-evolving, as more and more States choose to make both CBD and THC products available for recreational use. While there remains uncertainty about cannabis-derived products, the 2018 Farm Bill was a huge step forward in allowing federal access to CBD.. Be sure to check the laws of your state when considering a product with over .3% THC. Reputable CBD sellers will provide certificates of analysis accredited by a scientific laboratory to confirm the absence of THC, pesticides, and heavy metals. 
Have questions about CBD and your state? Chat with a customer success representative live at
https://venacbd.com/