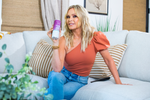 What's Tamra's THC Seltzer on RHOC & Bravo's WWHL
Season 17 of The Real Housewives of Orange County just premiered this month. 
And that means Tamra Judge is back at it again — this time with a more natural way to get uplifted. She's swapping out her wine for THC seltzer! 
What is Happy Place?
THC Seltzer: One vibe, three delicious flavors
What makes THC Seltzer Drinks so amazing
What is Happy Place?
What is Happy Place? It's a THC-infused, naturally-sweetened seltzer drink designed to take you to your, well, happy place! 
Happy place (noun): a place that somebody only has to think about in order to feel happy and relaxed.
No matter where you are or what you're dealing with, Happy Place is designed to allow you to reach that transcendent place. It's designed to help you regroup, refresh, and reset to a higher vibe. 
How? By delivering premium hemp-derived THC and CBD into your body. Each can of Happy Place contains 2 milligrams of hemp-derived THC. That's just enough to help you kick back and unwind. 
Happy Place is designed to mirror the effects of wine or other alcoholic beverages. Actually, it does more than just mirror them — its upliftment is side-effect free. You won't experience any hangovers here. You can say goodbye to alcohol-fueled aging, too. And while some people get a little pushy when they drink too much, Happy Place just gets progressively peaceful! 
Just like wine, the effects of Happy Place evolve as you drink more. Also just like wine, you should begin feeling different (aka new & improved) with that very first sip. Here are some practical pointers:
Drink 1 can of Happy Place to get refreshed & relaxed

Drink 2 cans of Happy Place to get buzzed & bubbly

Drink 3 cans of Happy Place for elevated enjoyment
THC Seltzer: One vibe, three delicious flavors
Happy Place Seltzers are available in three delicious, 100% natural flavors: 
Grapefruit

Black Cherry

Guava Passionfruit
Tamra loves all three flavors for a reason — all of them are light, refreshing, and truly delicious. Just check out what customers say about the way Happy Place tastes:
"The flavors are extremely tasty besides being very refreshing [...] I love all the flavors."
"Loved the black cherry flavor! Such a nice refreshing seltzer to have on a Friday afternoon right as happy hour begins!"
"Happy place drink is absolutely delicious."
"All three flavors are great."
What makes THC Seltzer Drinks so amazing
Happy Place THC Seltzer doesn't just taste amazing. Nor does it just make you feel amazing. It's also amazingly good for you! 
You can thank its combination of THC and CBD for that. Actually, this seltzer contains four separate hemp-derived cannabinoids: THC, CBD, CBG, and CBN. Let's take a look at their benefits one by one to get a better idea of just how good THC seltzer can get. 
THC (2 milligrams)
First things first: THC is relaxing. At higher doses (think 2-3 cans of seltzer) it can be super relaxing. THC directly activates endocannabinoid receptors, particularly CB1 receptors located in your brain, to help you kick back, relax, and forget about stress. [1]
THC's activity at these CB1 receptors can also result in improved creativity, sociability, and sleep. To put it super simply, the right amount of THC is just good for the soul.
CBD (2 milligrams)
If THC is pure upliftment, then CBD is pure balance. It mellows out THC's soaring effects by activating endocannabinoid receptors, particularly CB2 located throughout your body and its most important organs. [2]
Want a simpler translation? CBD promotes cellular chill. It also helps your body's various systems work together in harmony, resulting in a healthier, more cohesive you. While it can't get you buzzed on its own, CBD can and does instill a new sense of hope in those who try it. 
CBG (2 milligrams)
CBG, or cannabigerol, is one of the most interesting cannabinoids of all. Studies show that it may powerfully upregulate one's overall mood. Known and loved for its focusing, productivity-enhancing effects, CBG adds a clarifying buzz to the intensity of THC + CBD. 
CBN (2 milligrams)
CBN, or cannabinol, is an ultra-relaxing cannabinoid. At higher doses, it's great for sleep . . . at the 2-milligram mark, it's pretty much just super chill.  
What people are saying
There's a reason Tamra Judge and Andy Cohen are talking about THC Seltzers: they work! Unlike wine or other more conventional go-to's, the blissful buzz of THC Seltzer is 100% free from side effects. It's a total game-changer — especially if you've struggled to kick your alcohol habit in the past. 
And don't think you need to be an RHOC star to find your Happy Place. Our customers love how THC Seltzer makes them feel, too! Here are some of the highlights:
"Better than booze."
"After drinking one I am very relaxed and feeling mellow."
"Perfect amount of buzz to keep you in the party without the hangover . . . love love love."
"After about 40 minutes I feel very relaxed. These are an awesome replacement for alcohol and will be the envy of your friends!"