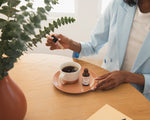 Wellness 101: CBD Improves Your Health
Wellness 101: CBD Improves Your Health
Occasionally we need a refresher course on how to take care of ourselves. The speed of modern life is so fast that you're excused for forgetting to put yourself first. But it's best not to make that a habit. 
Incorporating CBD into your daily routine can help you improve your physical, mental, and emotional health. Plus, there are so many different, easy ways to take CBD. 
Let's take a collective deep breath and reexamine how CBD can be a catalyst toward living healthier. Don't worry. There will be no homework or quizzes. 


CBD helps with sleep. And sleep helps with everything. 
According to the Sleep Foundation, "lack of sleep has been linked to a higher risk for certain diseases and medical conditions…including obesity, type 2 diabetes, high blood pressure, heart disease, stroke, poor mental health, and early death."
Academic studies have linked CBD to a calming effect in the central nervous system. What this means is that CBD can act as a natural sleep aid without the side effects of over the counter or prescription sleep medication.
Vena's natural sleep aids like Lights Out Extra Strength Sleep Gummies, Full Spectrum Restful Night Bites, and Restful Night, are great ways to get deep, restorative sleep that leads to a happier, healthier waking life. 
CBD helps with stress relief. 
Carrying too much stress can be a factor in health problems like headaches, high blood pressure, asthma, depression, anxiety, diabetes, and more according to WebMD. 
Luckily, a growing number of human and animal studies show that CBD may offer relief when the mind is feeling overwhelmed. No Worries Extra Strength Relief Gummies promotes patience and fosters boosted balance thanks to CBD, THC, and other natural ingredients like L'Theanine. 
CBD is far from the only way to decrease stress, but it can supplement other healthy routines like exercising and eating balanced meals. You can top off a healthy meal with a tasty Full Spectrum CBD Bite or Lemon CBD Bite (isolate). 
CBD helps improve your mood. 
CBD interacts with our serotonin receptors. Serotonin helps maintain balance in our bodies and is known as the "feel good chemical." CBD may help brain cells transmit more serotonin signals, which helps boost your mood. 
Along with CBD, the saffron and L'Tyrosine in Cloud 9 Mood Enhancing Gummies increase dopamine levels in your body, helping to elevate your mood day or night. People who want CBD isolate will find that CBD Tincture Oil or CBD Gel Capsules, if taken consistently, can lead to a better overall mood. 
CBD helps to ease discomfort in the body. 
The human body contains the endocannabinoid system (ECS) that helps to regulate functions like pain, sleep, and your immune system. Studies show that CBD interacts intimately with the ECS and shows a lot of promise that it can help to ease discomfort. 
Internally, Full Spectrum CBD Tincture offers a customizable format to dose up or down in order to ease discomfort. Externally, Cooling Cream, which combines CBD with menthol and arnica, is an easy-to-apply, fast-acting means to soothe discomfort anywhere on your body. It's great to use after a workout and is even used by UFC fighters. 
CBD helps you look younger. 
When used in tandem with hyaluronic acid and powerful botanicals, a potent dose of CBD can help your skin stay hydrated and healthy. Hydrated and healthy skin help you give off a youthful glow. The Hy Collection is a great way to soften and soothe your skin on a daily basis. 
Take your pencils out of your trapper-keepers. It's time for a CBD pop quiz. 
Did we just date ourselves? Yup. Plus, we said no quizzes. Sorry. 
As long as you promise to explore how CBD can help you prioritize your wellbeing, we still promise not to give you a quiz.