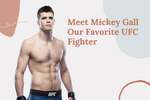 Chatting with our Favorite UFC Fighter Mickey Gall
We sat down with The UFC's very own Mickey Gall to discuss lifestyle, UFC, and health and fitness. Mickey is a proud Ambassador of the Vena lifestyle, and an avid daily user of the Vena gel capsules, cbd tinctures, and creams.
Mickey gives us some insight into his life and the products he loves:
Mickey! We are such big fans here at Vena. Can you tell our readers a little bit about who you are and what you do? 
Absolutely, and I'm a huge fan of yours! I am a professional mixed martial artist, I fight for the greatest fighting organization in the world, the UFC. I had a different entrance into the UFC than most. Dana White, the President of the UFC was at my first professional fight, I won that fight and took the opportunity to call out WWE wrestler CM Punk, knowing he was interested in fighting in the UFC and that Dana White was in the crowd. I figured I would toss up a hail mary and ask for the fight. I was featured on his show "Dana White Looking For a Fight". My second professional fight was in the UFC. I beat that opponent in 45 seconds and went on to fight and CM Punk. I beat him quickly as well, and now I am seven fights into my UFC career. My last fight was in August of 2019. I won that fight in front of my home state in Newark, New Jersey. I can't wait to get back in the Octagon and show what I have been working on. 
You've been using Vena CBD products for a while, how did you find us, and what drew you to this brand in particular?
I have been using Vena CBD for a while now. I originally began using CBD products a few years ago and I was impressed by the benefits they provided, however I found that not all CBD companies and products are created equally. After extensive research, and trying many different products I found Vena, and from the first time I tried Vena's products I knew they were the company for me. I noticed immediate results and loved everything they had to offer. 
We're so thrilled you love it! Why do you use Vena, and what can you recommend in terms of CBD for other athletes? 
I use Vena CBD for everything, recovery, athletic performance, sleep, relaxation, overall health, everything.The great thing about Vena is how it reduces inflammation, and it is safer than over the counter drugs. As a fighter, but also in all other sports, hard work-outs and injuries can hold you back. I use the cooling cream on my sore muscles and I'm ready to give 100% the next day. I recommend Vena and a lot of it, to other athletes.
What are some of your strategies for staying focused and healthy under pressure? 
I stay present and stay focused. I never let the pressure get to me. I continue working hard when the pressure is on, just as I do every other day. I think nutrition is one of the most important things on top of training. Leafy greens, fruits, veggies, and a lot of them! What I put into my body is of the utmost importance and that's why I work CBD into my nutrition plan. For me, the effect CBD has on the brain is incredible. In a contact sport where head injuries can put you out, I think of CBD as a secret weapon.
Why do you choose the Vena CBD brand as opposed to other products? 
I choose Vena because their products are different from all the others I have tried. I trust them to provide the highest quality products, and to be honest about their ingredients. I am randomly drug tested by USADA and have to be extremely careful about all the products I put into my body. Vena provides a certificate of analysis for every product so I never need to worry about contamination. I have to be able to trust the companies I work with, and I trust Vena. 
How do you see CBD in general fitting into the athletic community, both today, and in the future? 
I see CBD becoming as common as protein and other workout supplements, not just in the athletic community, but for everyone. As professional athletes we put our bodies through extreme challenges, and definitely need to use CBD to supplement that, but everyone should be using CBD. 
How has the lockdown due to COVID-19 affected your career and what are you looking forward to in the future? ? 
I am not letting COVID- 19 affect my career. I've taken this time to improve and grow. I haven't slowed down, or taken days off. I've improved over this period. I am looking forward to getting back in the cage and becoming a UFC Champion in the future, and I'm grateful for the support Vena has given me along the way.
Thanks for joining us Mickey. You embody all of our Vena Values, from perseverance and grit to philanthropy and family, it is wonderful to see you grow!