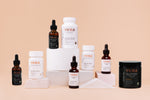 Isolate vs Full Spectrum: What's Best for You?
If you are familiar with or considering using CBD, you have probably heard the terms "full spectrum" and "isolate." What do those words mean for you as a CBD consumer? In this article, we break down the differences between CBD Isolate and CBD Full Spectrum to help guide you towards what will work best for your personal needs.
The Basics
The two different ways CBD can be extracted which produce slightly different, but equally important derivatives include CBD Isolate and Full Spectrum CBD. They each have their own unique cannabinoid profile. Simply put, CBD isolate is the purest form of CBD which is pulled from the plant and devoid of all other ingredients. Full Spectrum CBD contains the natural chemicals found in the whole plant, which include various other cannabinoids, terpenes, and more. Below, we delve a little deeper into Isolate and Full Spectrum to give you a better picture. 
CBD Isolate
A compelling option for anyone who desires to experience the therapeutic benefits of CBD without any traces of THC is CBD isolate. CBD Isolate is the purest form of CBD: as its name suggests, it is totally chemically isolated CBD without any extra cannabinoids, terpenes, and minerals. Isolate is totally pure, always with 0% THC. 
Who is Isolate for?
There are multiple reasons an individual may be looking to avoid THC in their products. Aside from personal choice, many people avoid risking trace amounts of THC showing up in mandated routine drug testing. Some people may simply be looking to switch away from prescription medicines and intoxicating feelings of the mind – so they would like to avoid any high from THC. CBD isolate is a great option for those who have considered CBD but changed their minds in fear of THC's presence. It's also a great place to start if you've never tried CBD!
Full Spectrum CBD
Full Spectrum CBD is the whole bundle! It includes CBD extracted along with other cannabinoids and minerals including terpenes, flavonoids, THC, and other phytochemicals. The way these components work together to boost your health benefits is called the entourage effect. The entourage effect is the belief that ingesting CBD with these compounds (using the whole plant) promises an increase in health benefits and therapeutic effects. The amount of THC included in Full Spectrum is always 0.03% or less, meaning, Full Spectrum CBD does not provide a psychoactive effect (it won't get you high). 
Who is Full Spectrum for?
If you've done your research and understand the effects of Full Spectrum CBD in comparison to isolate, you might decide this is your best option. We like to say that Full Spectrum is like taking an extra-strength aspirin. Basically, if you are looking for something a bit stronger, Full Spectrum is the place to find it. 
If You're Still Wondering What's Right for You
A lot of customers might find that CBD Isolate works just fine for them whereas other customers might want a little something extra. That's when it's a good idea to try our Full Spectrum CBD products. It is important to consider that Full Spectrum CBD is not necessarily better than CBD isolate products - there isn't a wrong way to take your CBD!
Here at Vena, individuality is one of our core principles. This means we celebrate how each individual has a different chemical makeup and unique needs - which is the key to finding the right CBD for you.
Overview
Let's have a quick review. The main difference between Full Spectrum CBD and CBD Isolate is the extraction process. When CBD Isolate is extracted, the goal is to retrieve only one cannabinoid, CBD, from the 100+ chemical compounds in the hemp plant. When Full Spectrum CBD is extracted, all of the cannabinoids, terpenes, and phytochemicals in the hemp plant are retrieved alongside it. 
Remember, we are all wired differently. Isolate might be a wonderful option for some, whereas Full Spectrum will be a better fit for others. We encourage you to do your research and explore to find what works best for your whole body health! 
Still aren't sure what kind of CBD is best for you? We are here to help! Email support@venacbd.com or comment below to discuss your wellness journey.