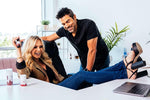 Former Real Housewives of Orange County Star Tamra Judge is making a splash in the CBD industry and it's not because she is throwing drinks. Tamra had enough on her plate balancing being a reality TV star, mother, wife and entrepreneur when Eddie Judge, her husband of 7 years, was diagnosed with Atrial Fibrillation, AFib, in 2017. Her busy lifestyle took a back seat, supporting Eddie through rounds of doctors' visits, surgeries and recovery. Despite the chaos grew their shared passion for CBD and desire to bring high quality, affordable CBD to the masses. 
Vena's mission is your health and wellness. That's why our high-quality CBD products are crafted with the best version of your life in mind. Unlike many other CBD brands, we are committed to transparency. We empower our customers to live healthier lives by arming them with as much information as possible. "At Vena, we are very transparent. All of our CBD products are guaranteed to have the correct amount of CBD that's stated on our products and contain 0% THC, and each of our products are third-party laboratory tested to ensure consistency and quality," Tamra explained on her Instagram. 
Since her departure from the Real Housewives of Orange County, her time is dedicated to expanding Vena's brand. "We're not interested in pushing products or making false promises. We're committed to helping our customers find the right product that helps them on a daily, weekly, monthly (and beyond) basis." Vena strives to earn our customers' trust and loyalty by offering CBD products that promote and support a realistic, balanced lifestyle. 
USE CODE TAMRASFAVS FOR 30% OFF TINCTURES + COOLING CREAMS
Read below to find out 5 ways Tamra is able to balance it all. 
1.

The first thing I do when I wake up is take a full dropper of our 3,000mg Tincture. I hold it under my tongue for up to 45 seconds before swallowing. This gives me confidence and clarity I need to get through my day.

CBD Oil Tincture

SHOP NOW

2.

I am a planner. With so many things going on, I use the morning to schedule out my day. That way, I don't miss anything important and I feel accomplished looking back at what I completed. I love the Passion Planner because it incorporates set goals while creating mindfulness.

3.

Next I'm off to Cut Fitness, our gym and probably second favorite place in the world, after my home of course. Exercise is so important to me not only so that I stay physically strong, but mentally strong too. Even though I work out daily, I still get sore. Our 750mg Cooling Cream is my go-to to ease my sore muscles and support my recovery so that I can get up tomorrow and do it all again.

CBD Cooling Cream

SHOP NOW

4.

Being in the limelight is definitely a double-edged sword. While I love sharing my world using platforms like Instagram to connect with fans, it can be overwhelming. That's why I make sure to have a daily "digital detox" from my phone, computer and TV for at least 30 minutes each day. Trust me, it will help you stay sane.

5.

My favorite way to end the day is by cooking a healthy meal for Eddie and the kids. Our kitchen is truly the heart of our home. We try to eat a vegetarian based diet but the most important thing is whatever you're cooking, aim to buy organic, local veggies that you like – that way you will want to eat them!