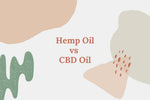 Hemp Oil & CBD Oil - What's the Difference?
You may have seen them on the shelves right next to one another – there's CBD oil, and then there's hemp oil. Wait, don't they come from the same place? They do, and you are not alone in wanting some further clarification on their differences and similarities. While both hemp oil and CBD oil are made from the hemp plant, they certainly bring with them different purposes and benefits. Grab a snack and get comfy; let's have a chat as we break down the differences between the two for you.
Difference Between Hemp Oil & CBD Oil
So, what is hemp oil? 
Hemp oil is most typically extracted from hemp seeds, but may also be from the entire hemp plant, seeds, or stalk. 

Hemp seed oil (which is extracted from the seeds only) has a high reputation in the health world for an array of nutritional benefits. You may have seen hemp seeds sprinkled on your favorite health bloggers' smoothie bowls. They are packed with nutrients and essentially flavorless, making them a great addition to meals as a topping or ingredient. 

To make hemp seed oil, hemp seeds are cold-pressed like a juice and can then be processed further into refined or unrefined hemp seed oil. While refined hemp seed oil is missing the nutritional benefits that unrefined hemp seed oil contains, it is great in products like lotion or hair conditioning treatments. 
Unrefined hemp seed oil is potent with natural fatty acids like Omega-3 and Omega-6, in addition to several essential vitamins. The human body does not produce Omega-3 fatty acids by itself and must be acquired through foods in your diet. 
This is where you hear about "good fats" and "healthy fats," like salmon, walnuts, or avocado (mmm, avocado toast.) Hemp oil is a wonderful way to boost your healthy fats in your diet, as easy as incorporating it into drinks, smoothies, or entire dishes. 
But what's the difference bewteen hemp oil and CBD oil?
Oone major difference between hemp oil and CBD oil is that hemp oil does not contain any of the cannabinoids that CBD does, meaning that you won't experience any of the benefits associated with CBD. 
Put shortly: hemp oil contains zero CBD. No CBD, means no CBD benefits. It is simply either a healthy fat to enhance your diet, or nourishing oil for topical purposes. You can read more about some of the benefits of hemp oil in this article.
Is Hemp Oil The Same as CBD Oil?
Hemp oil is not the same as CBD oil. CBD oil is distinctive from hemp oil because it can be extracted from different kinds of cannabis or hemp plants, rather than just strictly hemp seeds. Additionally, CBD oil that is trusted and reputable will always come with a certificate of analysis (COA) that will transparently outline exactly what is inside of the product. Vena shares every certificate of analysis and lab test results for each product on our website. 
All of our CBD products are guaranteed to contain 0% THC, and each and every product that leaves the facility is third-party tested to ensure consistency and quality. It is mesmerizing to witness the popularity of CBD continue to explode as people become familiar with the benefits it offers. What makes CBD so unique is its natural chemical makeup. Inside of CBD oil are compounds whose properties provide benefits to the human body when processed by the endocannabinoid system. Every living mammal on the planet, including dogs and including you, has an endocannabinoid system with different receptors for cannabinoids. The cannabis plant itself contains hundreds of cannabinoids. Hundreds! Two of the most widely known cannabinoids are THC and CBD. 
THC, of course, has earned the infamous reputation for its psychoactive effects that make one feel "high," while CBD is non-psychoactive and will not make a user feel impaired or intoxicated in any way. This is the flagstone characteristic of CBD that makes it so attractive to such a wide and growing audience, as they turn towards CBD for a natural enhancement to their wellbeing. For those looking to reap the benefits that THC has a reputation for without wanting to feel a "high," CBD is a number one choice. Though you won't feel a "high" like the cannabinoid THC would inflict, the benefits of CBD are still present as it is absorbed and processed by your body's endocannabinoid system. 
When all is said and done, a better understanding can be had about the similarities and differences of hemp oil and CBD oil that come together to serve various purposes for your body and lifestyle. High-quality CBD oil (shown through certificates of analysis) offers a user all of the incredible benefits of CBD like reduced pain and inflammation, promotion of sleep and wellness, decreased anxious feelings, and beyond, for starters. Hemp oil, most commonly sold in the form of hemp seed oil, is great for dietary and nutritional purposes. A fantastic choice for first-time CBD buyers is Vena CBD Gel Capsules or our CBD Restful Night Sleep Capsules. Hopefully, this article will have provided you with information that helps in making educated decisions to guide you further along your wellness journey in the CBD realm.