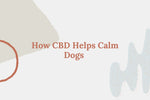 Dogs are our best friends, so naturally we treat them with love and want to ease their ailments. Having a dog or pet who is hyperactive or anxious can be tough to deal with. Even very well-trained pets may be hyperactive and difficult to calm down. More pup parents than ever are turning to natural remedies like CBD, as opposed to prescription pharmaceuticals for their pets needs. 
While CBD is known to promote focus, relaxation, and sleep benefits for humans, there is ongoing research on the effects of CBD on dogs. Read on to learn more about CBD and your pet.
CBD & Dogs
Cannabidiol, also known as CBD, is the substance derived from the cannabis plant that produces these calming effects. Products like CBD Soft Chews for dogs help calm dogs with a soothing combination of CBD, valerian root, and organic chamomile. These soft chews contain no THC, or the psycho-active element of the cannabis plant. While sometimes there may be THC in CBD Oil, it is important that your CBD chews for your dog are THC free. 
CBD treats for pets are not yet regulated, so it is important to pick the right products for your special furry friends. The best way to determine if your product is safe is a COA, or certificate of analysis. Look out for CBD companies who provide these transparent lab results, which prove products are pesticide-free and THC-free, where applicable. 
Calming Dogs with CBD
CBD drops or CBD Soft Chews  for dogs have been reported to ease:
Nervousness

Hyperactivity

Chronic Discomfort

Digestion
If your pet struggles with impulse control and has trouble staying calm, CBD soft chews may be right for them. These special treats for your pets can make them feel more comfortable, relaxed, and calm.  When choosing CBD treats for dogs or pets, many ask, what dosage and what type? 
When you give your beloved pet CBD, make sure it is formulated for animals, not humans. The internal endocrine systems of humans and animals differ, so inherently the dosage will differ as well.  CBD Soft Chews  from Vena CBD provide 30 bacon flavored chews, and each chew contains 10mg of CBD Isolate, for a total of 300mg of CBD in each bag. 10mg of CBD isolate is an ideal dose for most average-sized dogs. If you plan on treating a different pet to a CBD snack, consult your veterinarian on the appropriate dosage. Ultimately, our pets are our family, so treating them to a delicious snack that helps calm their nerves can be a beautiful gift for our special friends.
Looking for CBD for humans? Try the best quality 
gel capsules
,
tinctures
, and
creams
from Vena.