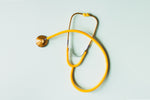 How to Talk to Your Doctor About CBD
How to Talk to Your Doctor About CBD
CBD is widely popular and reported to have a variety of health benefits, from reducing stress to boosting focus. That being said, it can still feel intimidating to broach the subject with your doctor. Medical research in the cannabis field has greatly improved recently, and many doctors are exploring the benefits of CBD in their practices.
Even if your doctor isn't quite on the CBD train yet, you can still discuss how CBD fits into your wellness routine and works with your other medications with a licensed professional. Your health-care provider can provide you with an extra resource in finding balance and comfort in your wellness journey.
Here are a couple tips for broaching the subject with your doctor:
Bring your CBD Questions
It's always best to come prepared! Write down a list of questions related to CBD and your health. Don't be afraid to ask your doctor about their experience and research in medical cannabis to begin. Start an open dialogue about your health conditions and experience with CBD. Some popular questions to ask are:
What formulations for CBD do you recommend?
How could CBD react with the medications I am already taking?
The reason I would like to take CBD is ________ , what other (natural or prescription) interventions do you recommend for this condition?
My main symptoms are _______ , what dose of CBD do you recommend?
Don't be Shy
Do not worry about any stigma around the use of CBD or other cannabis-derived products. Your health-care provider's job is to ensure your health and wellness, and CBD can be an integral part of your routine. Ultimately, doctors are used to patients bringing up new and alternative products, and can help support and educate patients on best practices. Many healthcare providers are working with natural alternatives to pharmaceuticals alongside traditional western medicine to give their patients the best overall picture of whole-body health. If your doctor has no experience with natural supplements, it may behoove you to talk to a doctor with knowledge of alternative medicine. 
Be Honest
Let's face it, sometimes chatting with a doctor about personal situations can be awkward. That being said, it is important to disclose your full medical history to your healthcare provider. Be honest about your health history, the medications you take, and the medications and supplements you are interested in taking. 
 Don't Hesitate to Get a Second Opinion
Your doctor's job is to work with a patient-centered approach to give you the best care possible. If your healthcare provider isn't up to date on the latest medical research regarding cannabis and CBD, you can ask them to recommend a doctor who is. There is no problem in seeking a second opinion, even if you like your doctor. 
Ultimately, talking to your doctor about CBD can help you integrate natural remedies into your daily wellness routine to support whole-body health and a clear mind. Below are some common forms of CBD to discuss with your healthcare provider:
CBD Tincture - A pure isolate CBD tincture is one of the most common forms of CBD. It is great for adding to morning coffee or simply placing under the tongue when you wake up to start the day with mental clarity and calm focus. 
CBD Blends - Blends offer targeted functions in addition to CBD. For example, go for Defense Drops, made with a proprietary blend of Vitamin C, Elderberry Extract, CBD Isolate, Ginger Oil, and Ashwagandha Root, to help support your system and fight colds and flus. 
CBD Cooling Cream - Achy muscles after a tough workout or a long day on your feet? CBD cooling cream can help you relax and relieve pain associated with inflammation, sore muscles, and skin irritations. Try a small dollop on the affected area 1 hour prior to bedtime.