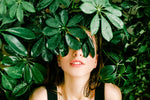 The Power of Plants & Why Your Skin Needs Them Now
Believe it or not, the answer to your skin woes might be hiding in your backyard! Plants have been used for centuries to treat a variety of ailments, including skin problems. More and more individuals are moving from synthetic skincare products towards a more plant-based routine. In this article, we explore the benefits of plant-based skincare and dive into our favorite healing botanicals. Thank you Mother Earth! 
What are Botanicals and How Will they Help Your Skin?
Botanicals are powerful plant extracts derived from flowers, roots, nuts, seeds, and berries. When harnessed in the right way, they can totally transform your skincare regimen. One great thing about plant-based skincare is that there shouldn't be harsh side effects like many chemical or synthetic-based products. These natural ingredients work in harmony with our own biology, always aiming to nourish your skin. 
Whatever your skin type, there is a powerful plant that can help! Whether you are aiming to treat fine lines and wrinkles or are acne-prone, there is a botanical ready to come to your rescue. Every plant has special and unique healing properties - check out some of the powerful botanicals that we have come to love below. 
Botanicals Spotlight
Lychee
Lychee is a flavorful and juicy fruit grown in tropical and subtropical regions. The extract from the lychee fruit is packed full of nutrients that have widespread benefits for the skin. Lychee contains vitamin C and B complexes which when applied topically, improve complexion by healing damaged skin, protecting against free radicals, reversing effects of aging, and reducing acne. Found in: Daily Hy - Hydrating Serum and Total Hy - Gel Mask
Rosehip
Rosehip Oil is a pressed seed oil that comes from a dog-rose plant. It's extremely moisturizing and especially helpful for those with sensitive skin. Rosehip is rich in fatty acids, Omega 3s, and Vitamin A, all important and delicious ingredients for a healthy complexion.  It has ample benefits but first and foremost it is known as an ultra-effective emollient and moisturizer. It is also known to reduce signs of aging.  Found in: Daily Hy - Hydrating Serum and Total Hy - Gel Mask
Avocado
We all love avocado on our toast but did you know it can also soothe and heal your skin!? The antioxidants and anti-inflammatory agents in avocado oil help to keep your skin smooth, strong, and elastic. (DIY tip- you can make a homemade avocado mask by mixing it with other ingredients you most likely have in your pantry. Check out some mask recipes here!)  Found in: Deep Hy - Adaptive Moisturizer
Ashwagandha
Ashwagandha is an adaptogen (check out more about adaptogens in our last blog post). It is an ancient medicinal herb that is all about managing stressors. There are so many internal and external stressors to our skin, balance is just what we need! Ashwagandha contains powerful antioxidant properties that help protect against free radical damage and slow down the aging process by firming up your skin.  Found in: Deep Hy - Adaptive Moisturizer
Reishi 
Reishi is another instrumental adaptogen. Reishi is a red-capped mushroom that helps balance hormones and boosts the immune system. It has been called "the divine mushroom of immortality"... meaning we definitely want to slather it all over our skin, right? Reishi is chock full of antioxidants and anti-inflammatory properties. It is rich in polysaccharides, which are water-binding agents that improve the skin's ability to retain moisture. Found in: Deep Hy - Adaptive Moisturizer
CBD
Just like the assistance CBD offers when ingested, it has similar calming benefits when applied topically to your skin. This powerful plant-derived compound engages so harmoniously with the skin that it not only helps calm and soothe irritated skin, but also helps to regulate sebum levels (fighting acne!) and also fights free radicals to keep skin safe from external stressors that age skin. Think: powerful plant-based superfood, but for your skin! Found in: Daily Hy - Hydrating Serum, Deep Hy - Adaptive Moisturizer, and Total Hy - Gel Mask
Aloe
Aloe Vera is a widely known miracle worker when it comes to skin ailments. Have you ever had a bad sunburn and applied some sort of after-sun care? It most likely had aloe in it. This cactus plant has a clear gel that can help soothe and heal inflamed skin. The gel from an aloe plant contains two hormones - Gibberellins and Auxin - that stimulate the growth of new cells and cut down on scarring of the skin. Aloe is easy to grow and works instantly - it's a wonder plant! Found in: Total Hy - Gel Mask
Plant Love
These plants are jam-packed with nutrients, minerals, and essential vitamins to keep your skin nourished and glowing year-round. At Vena, we love leveraging the power of plants wherever we can so incorporating these botanicals into our skincare line was an absolute no-brainer. Vena's new line of skincare includes the perfect blend of botanicals, adaptogens, and CBD to deliver the pampering your skin wants and deserves.
Let's get hy(drated)! Are you interested in botanicals but have questions? Let's chat! Leave a question or comment below, or reach out to us directly at support@venacbd.com.