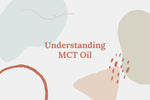 Why is MCT Oil Used in CBD Products?
You know when you meet someone you're destined to be friends with, and they just complement you perfectly? They get your jokes, they like going places with you, you get along great…CBD has a friend like that. A strong and unbreakable bond between two best friends. You will find that most CBD products on the shelves are made with a little someone called "MCT oil." This is for good reason ━ they are a dynamic duo. 
MCT & CBD Oil Is the Perfect Match
Like a good friend, MCT oil has CBD oil's back.
MCTs do an impressive job at protecting all of the CBD from being completely broken down by the digestive system before reaching the bloodstream.

Since CBD is a fat-soluble compound, it is most efficient and best absorbed by your body when taken along with saturated fats, like MCTs.

MCT oil provides a vehicle for the most CBD possible to be absorbed by the bloodstream.
When discussing how effectively a compound like CBD can travel through the digestive system after consuming and the level to which it can be absorbed by the body, the term is called bioavailability. Of course, most people would hope to have the most effective absorption to get the most out of their product's benefits. This is precisely where MCT oil shines, and makes it CBD oil's perfect match.
A fun fact to stash in your brain is that the liver is where you can actually lose CBD that you consume. In a metabolic process called "first-pass," CBD is broken down into at least one hundred components called metabolites, many of which go to waste and don't get used by our bodies. When this process essentially eliminates some of the CBD taken, that means the CBD's bioavailability has been reduced. Fear not. This is where MCT oil comes in as a good friend. MCT oil swoops up the CBD and carries it more directly to the bloodstream, as it helps the CBD almost completely avoid the first-pass metabolism process. To put this simply, MCT oil allow for a greater concentration of CBD to be absorbed into the bloodstream so you can reap benefits most efficiently and quickly. 
What Exactly is MCT Oil?
So, what exactly is MCT Oil? MCT is short for medium-chain triglycerides (a little bit of a mouthful, thank you for acronyms!) and is often used as a health supplement. It is typically derived from either coconut oil or palm oil.
Vena uses only the highest quality MCT Coconut Oil in all of our products to effectively deliver our premium 99%+ CBD Isolate through maximum absorption. A top-choice for both beginners and veteran CBD users are Vena's CBD Tinctures, blended with MCT Coconut Oil and administered sublingually by dropping the oil under the tongue. Tinctures come in strengths suitable for all of your needs, from potency of 500mg to 3000mg of CBD. Some users prefer to not directly consume a tincture and instead opt for a convenient method of taking CBD like Vena CBD Gel Capsules. Perfect for an on-the-go lifestyle, capsules make it incredibly easy to incorporate CBD into your routine.
While all of Vena's CBD products are crafted with the highest-quality MCT Coconut Oil, it should be noted that there is, in fact, a difference that separates MCT oil and coconut oil. MCT can stand alone, but coconut oil (which is also famous for an array of health benefits) naturally contains MCT. Coconut oil is highly abundant with MCTs, and in fact, more than half of the fat that is found in coconut oil comes from MCTs. Other examples of oils that contain MCTs are avocado, olive, and sesame. Like we know about the healthy fats in avocadoes, it is important to understand that MCT is also what is considered to be "good fat." MCT molecules are also smaller than the molecules in most fats that are found in food, making them easier for the body to readily use. In more specific terms, they increase the bioavailability of CBD when consumed together. 
Besides its popular use in CBD products, MCT oil has attracted attention in the health and wellness world on its own as a supplement. Salad dressings mix great with it, smoothies blend with it, and you may have also heard about bulletproof coffee in the recently trending Ketogenic "Keto" diet. What about MCT oil makes it healthy, besides increasing bioavailability? MCTs provide energy, first and foremost. Naturally, their smaller molecules allow them to break through cells more efficiently without being degraded. They have been shown to enhance metabolic health and boost your immunity, as well, and have played roles in healthy weight maintenance. 
CBD and MCT oil are two peas in a pod. They go together like peanut butter and jelly. However, not all products are made equal. Quality matters. That's why Vena shares all of our
certificates of analysis and lab test results
on our website. We value transparency and cherish your trust. Our products are legal and shipped to all 50 states and internationally. All of our CBD products are guaranteed to contain 0% THC, and each and every product that leaves the facility is third-party tested to ensure consistency and quality.