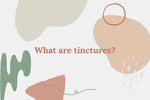 Browsing the market for new CBD products can be both an inspiring mission and a frustrating one. Sure, it feels great to start evaluating and really honing in on what your personal needs are at this moment, but just when you think you've got it all down – boom, confusion strikes again.
Why does one bottle say "CBD oil" and one say "CBD tincture?" And why can't you tell right away what the difference really is?
When we aren't able to easily and quickly understand what a product is or how it can improve our lives, we often hit the brakes on making any decisions and tell ourselves we will do more research later. Often, we end up putting off this decision and keep on living out our daily lives with the issues we initially sought relief from – insomnia, joint pain, and stress is just the tip of the iceberg. Feeling informed about your choices when choosing a CBD product eliminates uncertainty and allows you to confidently select the best product for you. Vena has your back and encourages making informed decisions.
Let's explore to learn the fundamentals of one highly popular delivery method of CBD: tinctures.
What is a CBD Tincture?
So, what is a tincture? A tincture, by definition, is a solution that is created from soaking organic matter inside of alcohol and water that over time (typically several weeks) will become infused by soaking up the natural compounds from the plant. The easiest way to picture this process is by thinking of a bartender who soaks something like strawberries in a bottle of vodka, creating a strawberry-infused vodka that now contains much of the strawberries' natural essence. In the process of manufacturing a CBD tincture, industrial hemp plants are soaked in an alcohol and water solution, which will eventually absorb the natural compounds inside of the hemp plant, like CBD.
After the solution has absorbed the desired amount of CBD, the liquid is filtered through a strainer to separate out the plant material. This alcohol and CBD solution usually gets natural flavoring like cinnamon oil or peppermint oil added to it, and feels much less like "oil" under the tongue than CBD oil does. Once this solution is bottled, this is what you would refer to as a CBD tincture. 
The Difference Between CBD Tincture & Oil
But why stop there? You certainly may. However, preferred options like Vena's CBD Oil Tincture are creating by blending the extracted compounds from the hemp plants with a carrier oil, like MCT. This is what is referred to as CBD oil, slightly different than a classically defined "tincture."
Aside from the classic tincture definition, there is widespread use of the term "tincture" to describe a liquid CBD product with a dropper. Vena's CBD Oil Tincture is partnered with a carrier oil for smooth and consistent delivery, and uses ethanol in the CO2 extraction process, making it an exceptional choice for a CBD Oil Tincture. While alcohol-only based CBD tinctures make for a less oily option, the optimal way to reap the benefits of CBD is to take it in combination with a high-saturated fat, like MCT oil.
MCTs (short for medium-chain triglycerides) are found naturally in high concentrations in coconut oil and carry CBD molecules deeper into the digestive tract, avoiding the deterioration of first-pass metabolism. What this means is that MCTs allow for a greater concentration of CBD to be absorbed into the bloodstream, called bioavailability. Vena's CBD Oil Tincture was created with you in mind, and with the collaboration of our lab research team. Blended with premium grade 99%+ CBD isolate and MCT Coconut Oil, this tincture stands out above the rest. If you aren't too "hot" on the idea of dropping oil under your tongue and consuming directly, Vena CBD Gel Capsules are a ridiculously convenient way to consume CBD, instead!
Read more about the difference between CBD capsules and CBD oil. When incorporating CBD into your daily routine to experience health benefits and improved wellness, it is absolutely essential to choose a product that is transparent, trustworthy, and only uses the highest quality of each ingredient.
At Vena, each and every single of our products are third-party lab tested to ensure consistency and quality. We share all of our lab results of our products and CBD isolate on our website so that our consumers' have glass door access to the information about what they are putting into their bodies. For Vena, it is so much more than the "latest, greatest" or new, eye-catching packaging with zero improvements in product quality – this is about people's livelihood and wellness, and we think about you daily.
Some CBD users add CBD to their routine for a general boost in health. But for some, health is a daily battle they fight to conquer, living through discomfort in various ways, and CBD has provided them with alternative, holistic relief. Vena CBD Oil Tincture is blended in different strengths that range from 500mg to 3000mg, allowing the opportunity to choose a product in the strength that best suits your individual needs.
Ultimately, the most important thing when choosing a tincture is both being and feeling comfortably informed. You know your body best – do research, consult with your doctor, and experiment with what works for you. Hopefully, you are now able to better understand what a CBD tincture is and why it is such a coveted option by so many when selecting an effective CBD product.