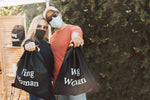 Vena Wing Woman Event Recap
Last week, Vena hosted a charity event with Tamra, Eddie, and the internal team to give back to our local community. It was truly an honor to put together care packages for women in shelters across Southern California. Vena's mission is always to empower women by giving them the tools to support their health and wellness journeys. Our signature product, Wing Woman, is packed full of mother nature's best natural ingredients to support women through their cycles. Our care packages featured Wing Woman CBD Capsules along with a host of other wonderful wellness products.
Following CDC guidelines, the Vena team met in the outdoor parking lot of Vena CBD and assembled over 250 care packages for women in need. In the spirit of the holidays, the team put these special "Wing Woman" bags together , featuring a combination of wellness and CBD products donated by Vena partners.
Special thanks to our donation partners: Bombas, our favorite comfy socks with a mission to give back, Cora, the best organic, all-natural feminine care brand, and Happy Little Camper for providing sanitary wipes, especially important during the pandemic! The care packages also featured  Vena's  Wing Woman CBD Capsules, formulated to support women during their cycle.
We worked with three local shelters to deliver the care packages to hundreds of women across Orange County and Los Angeles. We are grateful to be able to support three notable organizations working to end domestic violence and human trafficking by providing a safe space for women and families to be protected and empowered.
Our nonprofit partners are:
Building a community of peace. Protecting families from domestic violence through community housing, education, children and teen programs, and life skills. Over 40 years of protecting families.
Women's Transitional Living Center 
Ending the cycle of violence and exploitation of women. From domestic violence to human trafficking. Survivor driven and trauma-informed support and prevention services for victims of violence and human trafficking. The oldest domestic violence program in Orange County. 
Prevent. Protect. Empower. Transform. Safety and healing for victims of domestic violence in Orange County. Serving over 38,000 residents with emergency housing, counseling, and services for military families.
"Thank you so much to our amazing staff and our charity partners", Tamra said. Vena strives to empower underserved communities, especially young women, to reach their maximum potential through access to education and healthcare through our Vena Social Responsibility initiatives. For more information on Vena's social initiatives and how to donate, please contact support@venacbd.com.