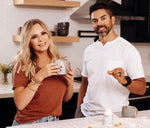 What We Stand For (Vena Core Values)
Vena has grown from a small start-up founded by Tamra and Eddie Judge to a thought leader in the CBD space. As we prepare to launch a series of new products by the end of this year, we want to affirm our commitment to our core values. We will continue to practice them with integrity no matter how much we grow!
Transparency. Quality. Individuality.  
Vena Values, No Excuses. 
Our core values dictate the way we interact with our customers, employees, and the world. From pre-production all the way to your doorstep, we practice and celebrate transparency, quality, and individuality. 
Transparency: 
Honesty is always the best policy. Our world is going through a series of global crises, and sometimes it can be hard to discern what is real, what is fake, and what is just pure BS. At Vena, we practice what we preach when it comes to transparency. From the start, we have put an emphasis on full-disclosure about what ingredients are in our products and how we operate. Every single Vena product comes with a laboratory backed COA, or
Certificate of Analysis
. We don't pretend to have all the answers to the crazy times we are living in, but we are committed to providing excellent high-quality CBD products, education, and customer service; everyday. 
Quality:
Quality is essential. With so many CBD or CBD-adjacent products on the market, you need assurance that your products are made safely and consistently with the highest quality processes and ingredients. All of our attention goes into crafting the perfect blends of CBD using the most safe and effective CO2 extraction process.
All of our products are free of pesticides, microbials, and heavy metals with verified cannabinoid content, so you can rest easy.
Individuality:
You are perfect the way you are. And we love that about you. We know your wellness routine is a personal experience, and we are here to support you. No two customers are the same, and our service team - all real people - are here to help you find what fits your body and routine best. Vena is all about whole-body health: from your mind to your core. Our products are specially formulated to make you feel productive, balanced, and ready to take on the world. 
We are honored to be on this journey with you, and committed to practicing our values everyday, in every aspect of our business. Our model is based on mutual respect, education, and honesty. We want you to make the most well-informed decisions possible to improve your quality of life. Our entire team is trained by licensed professionals on the understanding of cannabis and herbal medicine in order to be knowledgeable about the powerhouse ingredients in your products. .
Transparency. Quality. Individuality. Always.